Over the autumn of 2022, European farmers maxed out their milk production, as foreseen by the historically high farm-gate milk prices coops were offering. When farmers are rewarded more for milk, they naturally increase their herd and the feed given to cows, leading to increased milk production estimates. As Jasper Endlich, Market Intelligence Analyst at Vesper, puts it: "Farm-gate milk prices will likely be a critical driver for milk production of the coming year as well, and will determine how milk production will develop over 2023".

The goal of cooperatives behind driving up the farm gate milk prices was achieved: to keep milk production estimates up to par. Farmers decreased their milk production by -1% until last summer as a reaction to soaring production costs, but thanks to historically high farm-gate milk price, European farmers decided to maximise their milk production over the autumn. This resulted in a 0.8% increase in September '22 milk production compared to the year prior, see figure below.

Dutch farm-gate milk prices, for instance, recorded a 78% increase between November '21 and October '22; see figure below. Vesper recently added the widget "Company Milk Prices" to give you a more micro-level overview, a company-level breakdown of the farm gate milk prices, allowing you to easily follow historical milk price trends. It shows how Friesland Campina's prices increased from 43.73 euros per 100 kg in January to 60.45 euros per 100 kg this December.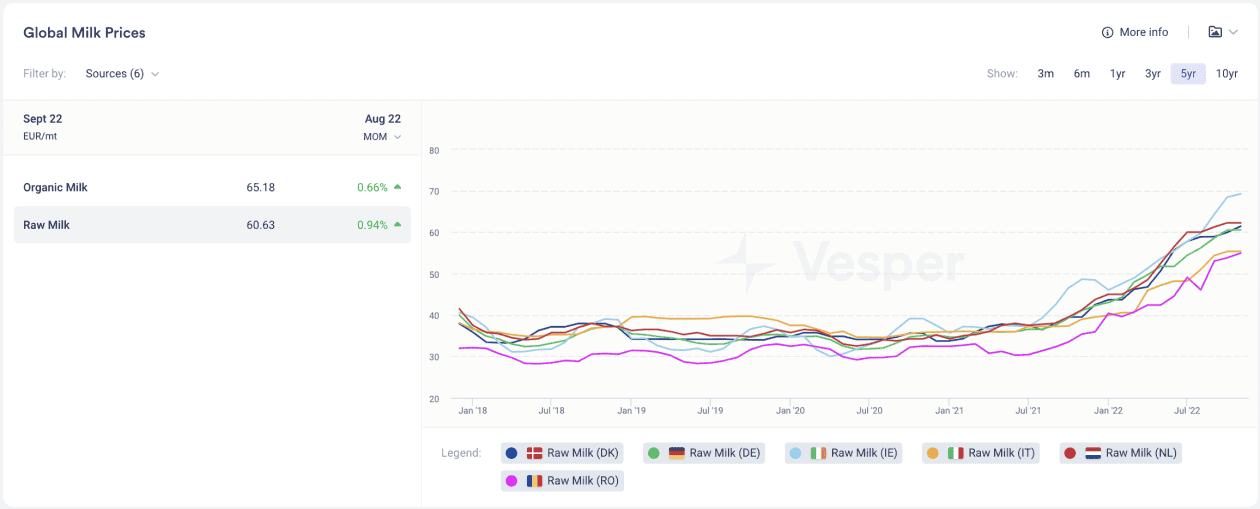 What to expect for 2023
Farm-gate milk prices will likely determine how much milk production increases or declines over the coming year. Jasper Endlich proposes two scenarios: ongoing high prices will incentivise farmers to produce more milk, leading to year-on-year growth, or price decreases will slip the European market back into a negative year-on-year growth seen throughout '22. Jasper explains how the latter scenario will most likely occur, as the current high farm gate milk prices are not profitable with the current dairy commodity prices. Milk prices will, therefore, most likely start decreasing at the start of 2023 and keep dropping throughout the year, leading to a decrease in milk production numbers. According to Vesper's production forecast, the effect on production will be evident around March '23; see figure below.