On April 2nd, the Organization of the Petroleum Exporting Countries announced to cut 1,16 billion barrels of oil per day from the market beginning in May till the end of the year. Their objective is to manage the oil supply to attain price levels similar to those during the first months of the war (approximately 100 USD per barrel). Although production has not been reduced yet, the market has already responded to this announcement, causing an upward price trend, as seen in our Historical Settle Graph.
Since their announcement, Brent Crude Oil prices have increased 6.4% to 84.99 USD/barrel. The rise in oil prices raises concerns that inflation may persist for an extended period, putting pressure on consumers worldwide.

Shortly after the announcement, the global crude palm oil price started to show signs of increase, from 959.41 EUR/MT in April to 977.77 EUR/mt in May. However, since the Oils and Fats market is known to be volatile, prices quickly rebounded starting on April 5th.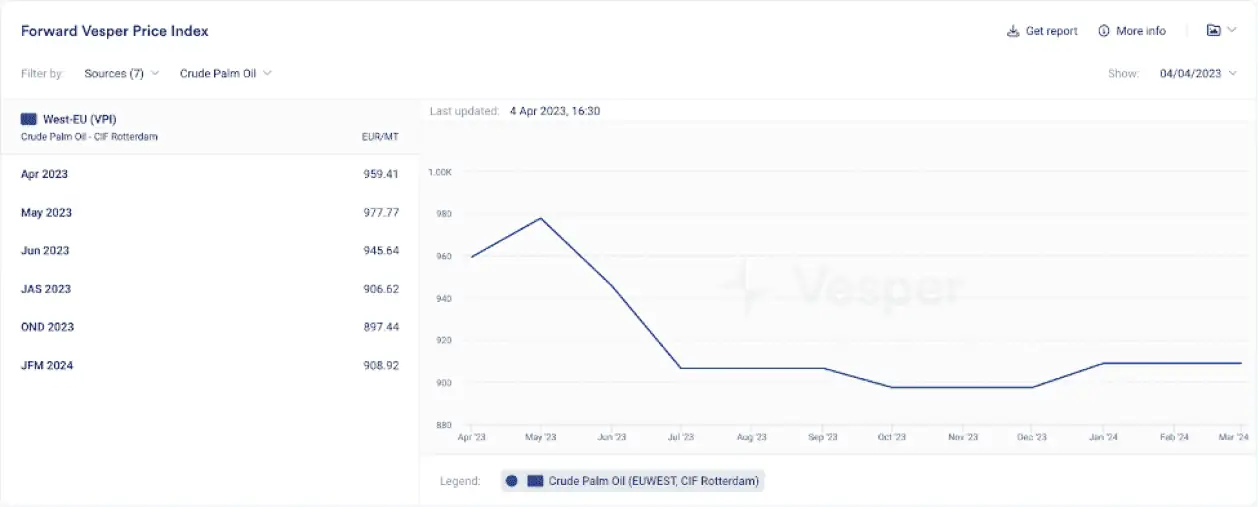 For future reference, it is advised to continue to monitor how the relationship between natural & vegetable oils will develop in Vesper's Oil vs GasOil Spread, as both affect biodiesel pricing.

The Oil vs GasOil Spread displays historical Oil vs GasOil pricing and spread in one graph to help you understand the relationship between LS Gas Oil and Crude Palm Oil (BMD), Soybean Oil (CBOT), and Soybean Oil (DCE). Prices are displayed on the left side of the graph, while Spread values are displayed on the right.