Sunflower oil tanks stored in the port city of Mykolaiv, Ukraine, were hit on Sunday by Russian kamikaze drones, the Ukrayinska Pravda reports.

A fire broke out before being extinguished. The attack caused a leakage as litres of oil are now running through Mykolaiv's streets.

Mykolaiv, home to one of the busiest Black Sea ports, sees 17% of the world's sunflower oil exports pass through its terminal. Ukraine, the world's top sunflower exporter, supplied nearly two-thirds of the world's sunflower meal in 2021, according to a USDA report.

The attack adds further uncertainty to a market significantly disrupted since the Russian invasion of Ukraine started on February 24, 2022. Prices soared from 1316€/mt before the start of the war to 2199€/mt in March (+67%), according to the Vesper Price Index.

Crude sunflower oil prices have since steadily declined as global demand weakened, notably replaced by rapeseed in the EU28 region (+12,69% YOY). The Black Sea Grain deal, approved last August, also participated in the price decrease as it resulted in higher product availability (see graph below).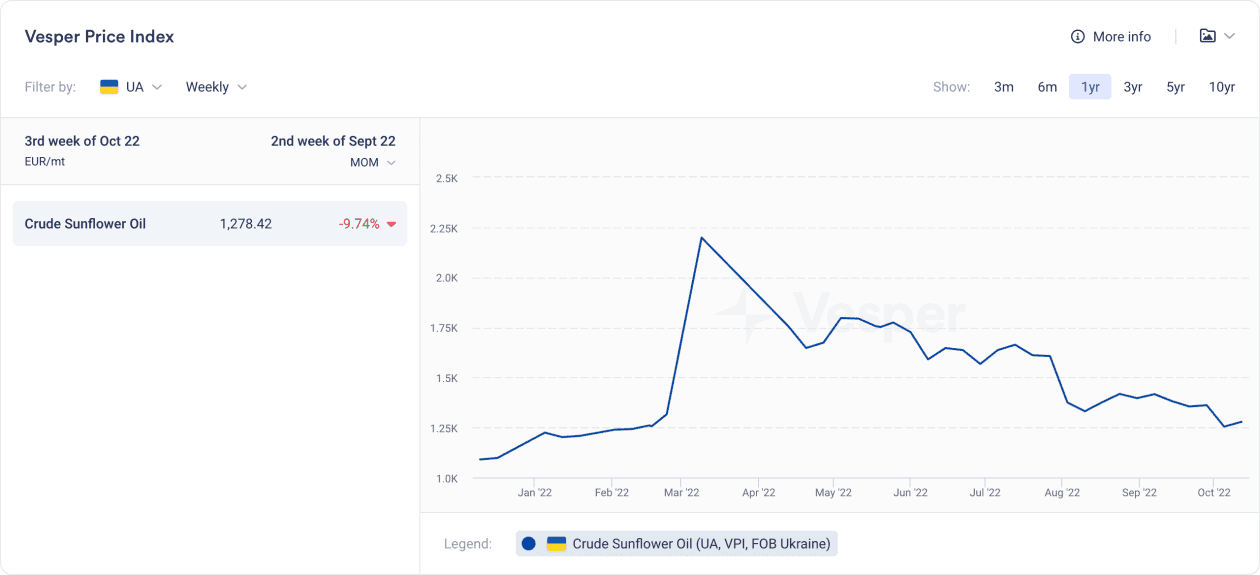 Source: Vesper Price Index

Whilst the availability of sunflower seeds remains good both inside and outside of Ukraine, the shellings on Ukrainian port cities increase concerns surrounding the future of the country's export corridor and infrastructures, Vesper Market Analysis highlighted on October 18.