In the ever-evolving European dairy market, industry experts Sebastiaan Laurenceau and Jasper Endlich present a comprehensive market update with a particular focus on the intricate world of whey. Among all traded commodities, whey has experienced a significant surge in prices in the last month. Zooming in on the price benchmark, the Vesper Price Index, Sebastiaan and Jasper will explore the factors contributing to this price hike. The market update will start with a discussion of liquid whey, then explore whey concentrates and sweet whey powders, and finally, delve into sports nutrition products, such as WPI and WPC.

Liquid whey
Particularly, WPC80 and whey concentrate have witnessed a significant price increase, which can be attributed to a shortage in supply when buyers returned to the market. For instance, German Whey Concentrate prices experienced a substantial rise compared to last month, soaring from approximately €175.00 | $184.45/MT to €400.00 | $421.60/MT, as depicted in Figure 1.

Figure 1: German Whey Concentrate price as recorded by the Vesper Price Index
In the second and third quarters of 2023, the cost of Whey Concentrate was exceptionally affordable. This was primarily due to the anticipation among market participants of the delayed launch of a new production facility in Western Europe. This facility was expected to integrate whey into its manufacturing processes, specifically operating a drying factory that transforms liquid whey (whey concentrate) into SWP. Nevertheless, when the production facility eventually began operations at the end of Q3, there was a sudden spike in the demand for liquid whey. This, aligning with a decrease in milk production, further fuelled the rise in whey prices.
Whey powders
Compared to 2021, cheese production in Europe has experienced a slight decrease. Nevertheless, compared to 2022, production from Jan-July 2023 reached nearly the same level, with 5,758,368 metric tons as opposed to 5,559,869 metric tons in Jan-July 2022 (see Figure 2). This suggests that there has been a consistent flow of whey over the past year.

Figure 2: Europe 28 production volumes for Cheese in MT (YTD)
Finding buyers for European SWP posed a unique challenge, primarily due to their need to compete with the United States. According to the Vesper Price Index as of October 16, 2023, the European price for SWP (Food) is €850.00 or $895.90 per metric ton, in contrast to the US price of €644.28 or $679.04 per metric ton. It's worth noting that around March 2023, SWP (Food) prices in the US experienced a slight increase, but for most of the year, they remained more economical compared to Europe (see Figure 3).

Figure 3: SWP (Food) prices for the EU and US, as recorded by the Vesper Price Index
The price contrast between the EU and the US is reflected in export figures, with European exports falling behind those of the US. European exports of Whey Powder have remained similar to 2022, but are 10% lower compared to 2021. From Jan-July 2023, exports reached 434,301 metric tons, whereas they stood at 491,126 metric tons from Jan-July 2021 (see Figure 4), thus preventing a substantial increase in European prices.

Figure 4: Europe 28 export numbers for Whey Powder in MT (YTD)
Lactose
Regarding lactose, we have been seeing the same trend. The European price for lactose is currently higher than the US, standing at €670.00 or $705.53 per metric tonne, compared to €530.37 or $558.49 per metric tonne in the US (see Figure 5).

Figure 5: Lactose prices for the EU and US, as recorded by the Vesper Price Index
And with European prices being higher than the US, Europe faces challenges in finding buyers in the export market. Consequently, Europe hasn't reached the right export levels and is experiencing a 5.30% decline compared to 2022. From January to July 2023, European exports amounted to 135,276 metric tons, while in the same period in 2022, they were at 142,848 metric tons. In contrast, the United States has seen a 6.70% increase compared to 2022. From January to July 2023, US exports reached 276,073 metric tons, whereas they were at 258,738 metric tons in the same period in 2022 (see Figure 6).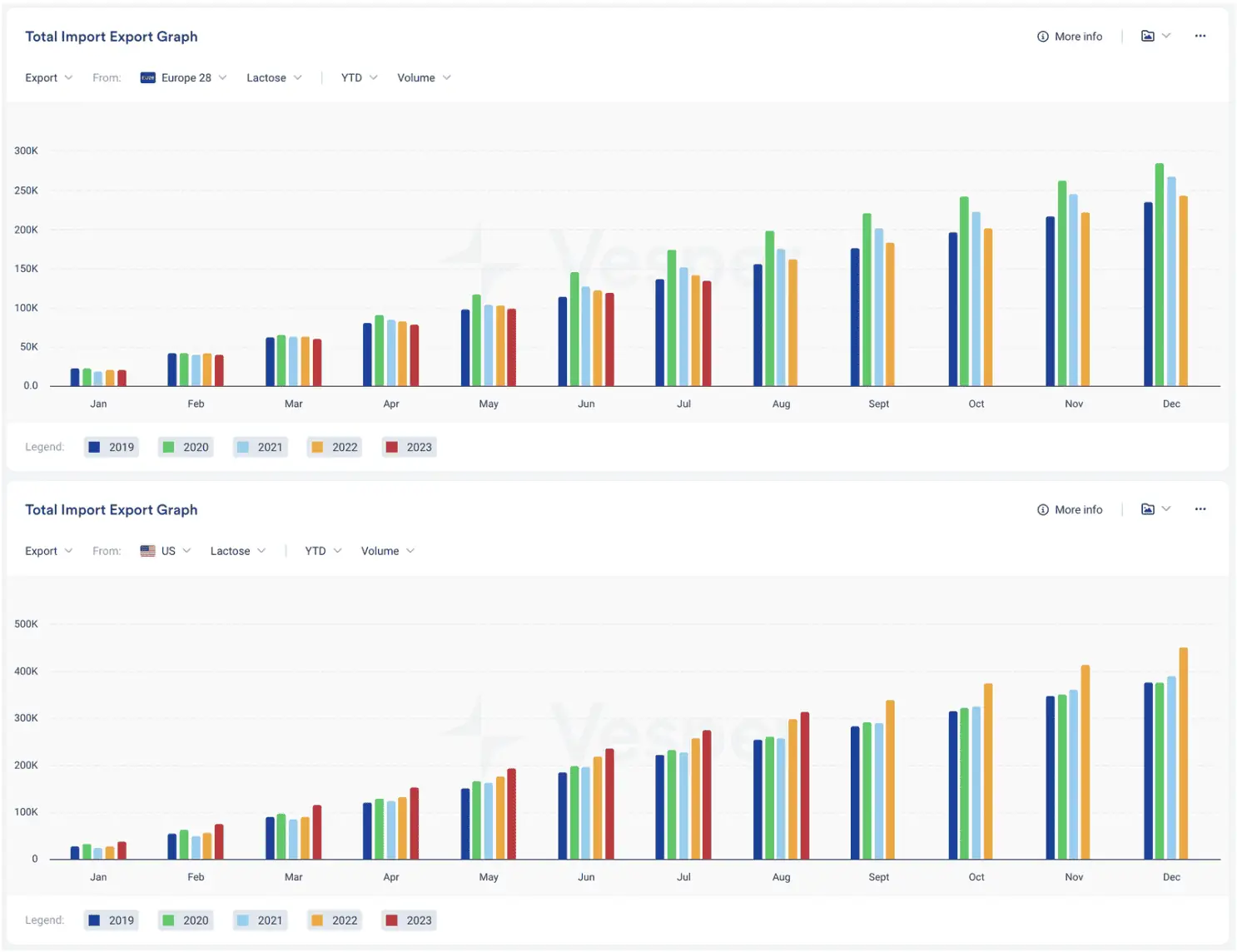 Figure 6: Europe 28 and US export numbers for Lactose in MT (YTD)
The main reason behind the increase in US exports can be attributed to China, which has been significantly boosting its lactose imports over the last five months. Especially from April, May and June when the milk season in the US and Europe picked up. To illustrate, in June, China imported 67.39% more lactose from the US than the preceding year (see Figure 7). Europe continues to export a lot, but the quantities are insufficient to maintain price levels that most suppliers would find satisfactory.

Figure 7: Chinese top 10 importing countries of Lactose in MT
Protein powders
Moving on to the final powders like WPCs and WPIs, which have seen a notable rise in prices. For example, the European price of WPC80 has witnessed a substantial price surge in recent months. According to the Vesper Price Index as of October 11, 2023, the European price for WPC80 has reached €7,800 or $8,218.50 per metric tonne, marking a significant increase compared to €5,500 or $5,794.94 per metric tonne just two months earlier (see Figure 8).

Figure 8: European price for WPC80 and WPI according to the Vesper Price Index
In 2022, whey prices were significantly higher compared to the years prior. These elevated prices prompted manufacturers to increase their production of WPC80 and WPI, as they could attain more profit margins. However, as demand declined, suppliers found themselves with an excess of high-value products rapidly depreciating. Consequently, manufacturers decided to cease the production of WPC80 and WPI and changed their production strategy to made-to-order.
Transitioning to a made-to-order strategy has increased suppliers' negotiation power, which is precisely why we are witnessing an increase in WPC80 and WPI prices again. The last time such a situation unfolded was around May 2021, although we do not anticipate WPI prices reaching the previous high of 18,000 euros per metric tonne. In summary, demand is back, but buyers are now receiving freshly produced products rather than those in stock for several weeks.
Wrapping it up, when it comes to high protein powders, two products that haven't been in the spotlight recently are WPC35 and SMP (Food). The protein content in both of these products is quite comparable, and as a result, their prices have been similar over the past few years. Nevertheless, in recent times, the prices of WPC35 have not seen significant increases, causing the gap between WPC35 and SMP (see Figure 9) to widen. This suggests that WPC35 may be the more attractive choice for buyers.
Figure 9: European price for SMP and WPC35 according to the Vesper Price Index
Key takeaways
Overall Bullish Trend: The whey market has exhibited a bullish trend.
Export Dependency: The bigger whey products are heavily reliant on exports, and the market's upward movement is contingent on increased export activity.
Made-to-Order High-Protein Products: Higher protein content whey products are now produced on a made-to-order basis, so immediate availability may not be expected from suppliers.
WPC35 and WPI Potential: Keep a close watch on WPC35 and WPI, as these products are expected to be of particular interest in the coming months. The market's direction remains uncertain, and we eagerly await further developments.

Subscribe to our bi-weekly highlights on the global whey market to stay up to date on future price trends.