In a notable shift, global dairy market sentiments have recently taken a bullish turn across all regions, as confirmed by rising prices worldwide. The Global Dairy Trade (GDT) has seen increased demand, particularly from significant importing regions.

Butter prices recorded by Vesper:
The EU Vesper Price Index (27/09/2023) for butter is at €4650 | $4912/mt ($2.23/lb) EXW. Oceania butter price is at €4638 | $4900/mt ($2.22/lb) EXW. US VPI butter 82% unsalted price is now at €6051 | $6393/mt ($2.9/lb) EXW
Cream prices throughout Europe have risen very sharply to €6600/mt over the last weeks and now have a better valorization than butter, lowering the availability of 'fresh' butter

SMP prices recorded by Vesper:
The EU Vesper Price Index (27/09/2023) for SMP increased to €2350 | $2482/mt ($1.13/lb) EXW. Oceania SMP price is at €2319 | $2450/mt ($1.11/lb) EXW. US VPI SMP price is now at €2399 | $2535/mt ($1.15/lb) EXW
Skim milk concentrate prices in the EU have increased to €2450/mt, which has pushed SMP prices up even further


WMP prices recorded by Vesper:
The EU Vesper Price Index (27/09/2023) for WMP increased to €3330 | $3518/mt ($1.6/lb) EXW. Oceania WMP price is at €2602 | $2749/mt ($1.25/lb) EXW
European WMP is not able to follow the other commodities up in price, as there is too much supply for the limited demand in the European market


At the same time, the European liquids situation is keeping the European dairy market in its grasp as selling commodities is less profitable than selling the liquid equivalent. This trend is pushing dairy commodity offers upward, though bids haven't matched this rise as of now.

In terms of supply, both the US and Oceania are facing challenges. Recent statistics show declining milk supplies for August in both regions, with the US recording a 0.22% year-on-year drop and New Zealand showing a more pronounced decrease of 2.11% year-on-year. This further bolsters the argument of those bullish on the market.

However, the higher prices are also generating scepticism. With demand slowing down, , and many buyers point to the big unknown: stock levels. Coupled with the observed weakened consumption levels for most commodities and the range-bound price movement we've seen throughout the year, some market bears argue that this price hike might be temporary.
This week, however, the bears do not stand a chance against the market bulls.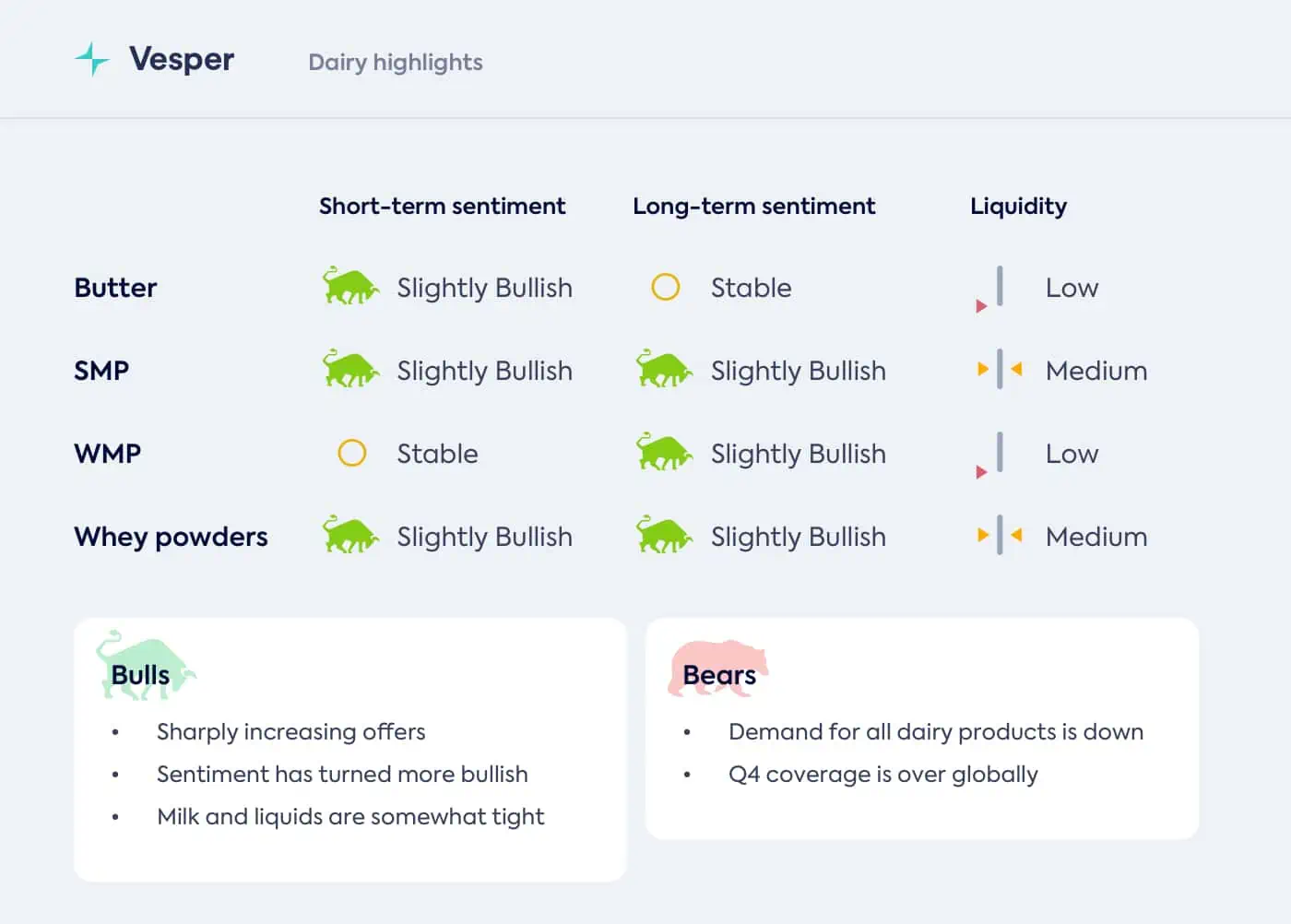 Download our latest Vesper Highlights for a more in-depth analysis on the butter and whey market.