In recent developments in the biodiesel market, an increase in demand from biodiesel companies in Western Europe has had a profound impact on rapeseed oil prices in the region. Additionally, the MATIF (Euronext Paris Futures and Options Market) experienced a significant uptick, partly due to concerns over drought conditions in Australia. However, the rise was somewhat curtailed by the smooth progress of the Canadian harvesting campaign and improved forecasts for rapeseed production in the European Union. (For more details, refer to yesterday's O&F highlights.)

The Vesper West EU Forward Price Index for crude rapeseed oil, on October 3, 2023, increased to $1041 per metric ton (FOB DutchMill, NDJ contract). This marks a notable increase from $974 per metric ton during the same period in the previous week. Simultaneously, the MATIF for rapeseed experienced a rise, reaching $468 per metric ton on October 3, 2023, compared to $466 per metric ton in the previous week.

Alongside the increase in rapeseed (oil) prices, the price seasonality of Rapeseed Methyl Ester (RME) contributed to an upward trend in RME prices, reflecting a price increase of 2.7%. This increase is particularly notable as the European Union and Scandinavia enter colder seasons, leading to a higher demand for blends with lower Cold Filter Plugging Point (CFPP).

The Vesper Spot Outright Index FOB ARA for RME, on October 3, 2023, strengthening at $1422 per metric ton, up from $1385 per metric ton during the same period in the previous week.

RME price comparison (figure 1):
On 2023-10-03, the Spot RME-RSO spread was seen at $402 / mt vs. $375 / mt same period last week, signalling healthier margins for RME producers
On 2023-10-03, the RME-FAME 0 spread narrowed to $203/mt from $210/mt on 2023-09-26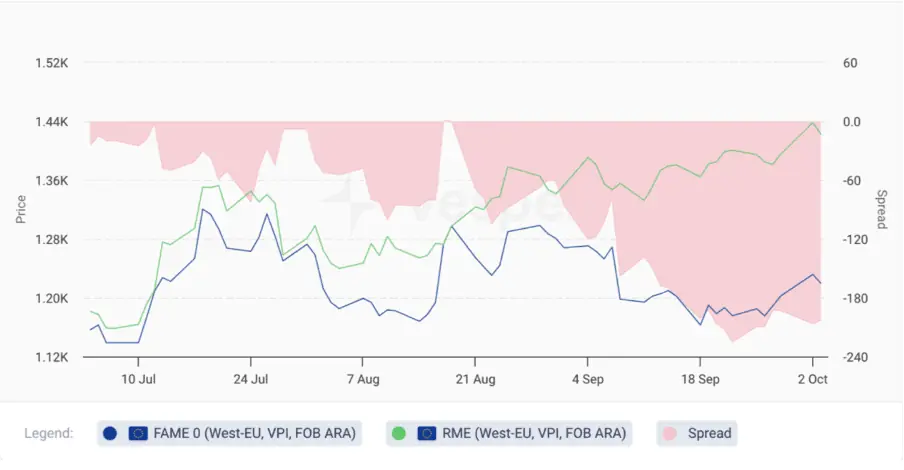 Figure 1: Spot RME-FAME 0 spread
Read our full analysis on the vegetable oil complex including RME, UCOME, UCO, FAME 0 in the latest Vesper Highlights.