According to new market data published by Vesper, there was a decrease in UCOME and UCO 5% prices compared to the previous week. Based on information from our sources, this trend happened during a decreased demand for UCO and UCOME in Europe in the past and current calendar week.

According to the latest Vesper Price Index (Figure 1):
The UCOME price, as indicated by the Vesper Spot Outright Index FOB ARA on 26/09/2023, decreased to $1445/mt from $1455/mt the previous week.
The UCO 5% FFA price, according to the Vesper West EU Spot Price Index on 26/09/2023, dropped to $1106/mt (EXW Netherlands) from its previous rate of $1111/mt the week before.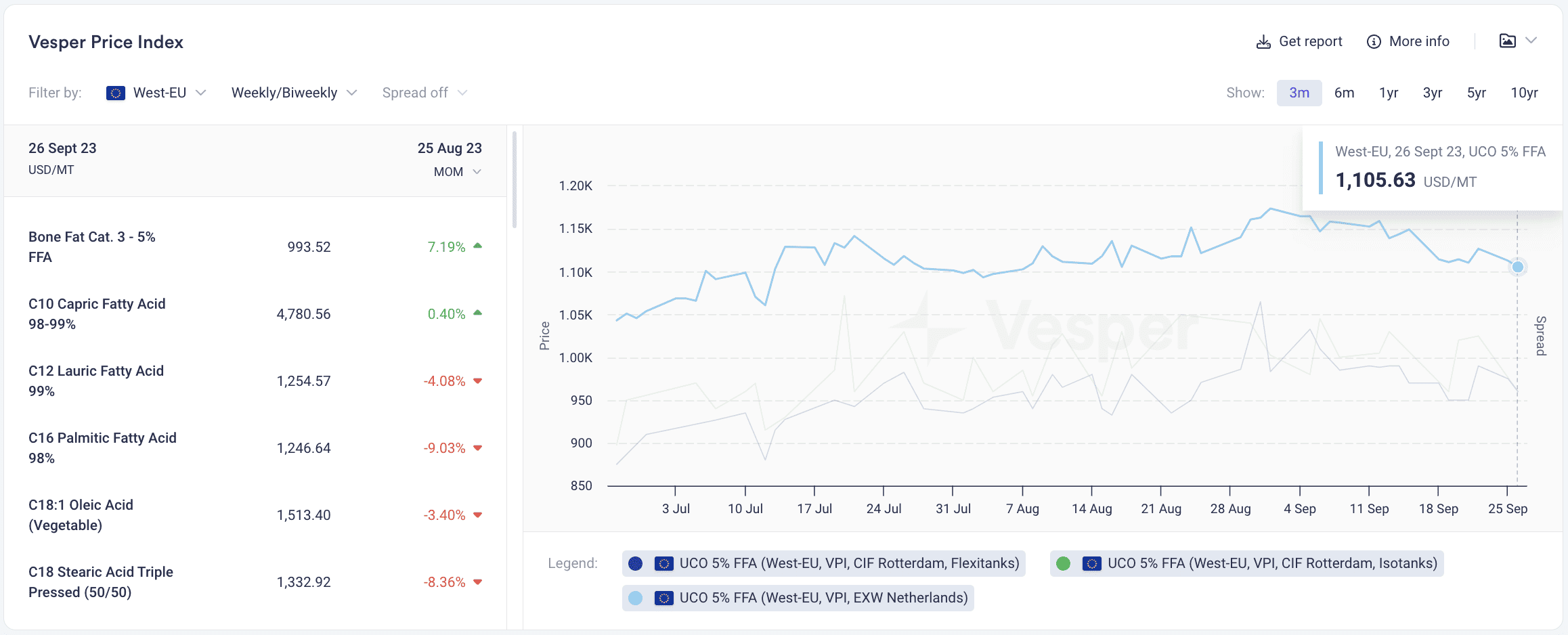 Figure 1: The Vesper West EU Spot Price Index for UCO 5% FFA – EXW Netherlands (USD/mt)

This drop in prices has caused the gap between UCOME and RME prices to become narrower, which is beneficial for UCOME producers in Western Europe, who can expect better pricing. A UCOME producer based in Spain informed Vesper, "Europe needs to lower CFPP blends, as traders are likely to mix RME and UCOME. They will be demanding lower discounts for UCOME in relation to benchmark prices due to this narrower spread between UCOME and RME. So, UCOME producers will get better prices."
Spreads (Figure 2):
The difference in prices between UCOME and UCO was $339/mt on 26/09/2023, in contrast to $344/mt the week before.
The spread between Spot UCOME and FAME 0 was $270/mt on 26/09/2023, compared to $265/mt from the previous week.
On 26/09/2023, the UCOME-RME price gap stood at $60/mt, which is less than the $73/mt the prior week, marking the smallest difference in several months.


Figure 2: The Spot UCOME-RME spread

On a separate note, Vesper has released trade data for China's biodiesel and UCO exports in July and August (Figure 3). An EU-based broker commented, "The figures might represent contracts finalized earlier. Outcomes from current investigations may show in the export data for September or October. It remains to be seen if the European petroleum companies' demand for Asian biodiesel reduces."
Chinese biodiesel exports to the EU for August 2023 compared to July 2023: 151,463 mt vs. 157,656 mt
Chinese UCO exports to the EU for August 2023 compared to July 2023: 66,124 mt vs. 41,175 mt
Total biodiesel exports from China for August 2023 compared to July 2023: 161,093 mt vs. 164,929 mt, with over 90% being shipped to the EU.



Figure 3: Chinese UCO biodiesel exports into EU

Finally, trade data for US biodiesel and UCO for August vs. July 2023, showed a decrease:
US total biodiesel imports July vs. June 2023: 104,711 mt vs. 139,086 mt
US total UCO imports July vs. June 2023: 55,752 mt vs. 90,088 mt
For more biodiesel insights, visit the Vesper platform for free.