Sugar prices experienced a downturn this week, largely influenced by the declining strength of the Brazilian real and a dip in crude oil prices. Sugar No. 11 (raw) is down to ¢25,80 /lb, and Sugar No. 5 (white) is down to $690,8 /mt. This week's Vesper Price Index (04/10/2023) also shows decreases for the 2023/24 campaign: East-EU: €870 | $910/mt DAP, West-EU: €910 | $952/mt DAP, South-EU: €940 | $983/mt DAP.

The Brazilian real's significant fall to a 4-month low against the dollar has negative implications for sugar prices, as it spurs increased export selling from Brazil's sugar producers. Furthermore, the decrease in crude prices negatively impacts sugar. This drop in crude prices diminishes ethanol prices, potentially leading global sugar mills to prioritise sugar production over ethanol during cane crushing, subsequently increasing sugar supplies. As indicated by Vesper's Brazil Sugar/Ethanol Parity widget, the disparity between producing sugar over ethanol has reached an unprecedented level, as depicted in Figure 1.

Figure 1: Brazil Sugar/Ethanol Parity

However, it's not just the immediate price that affects the market, but also the duration for which these prices remain elevated. With global sugar stocks dwindling, there's a noticeable shift in consumer behaviour in response to escalating food expenses. Market forecasts suggest that sugar prices will oscillate between 22 and 27 cents/lb for some time. The global market's reliance on Brazil for its sugar supply further complicates the situation.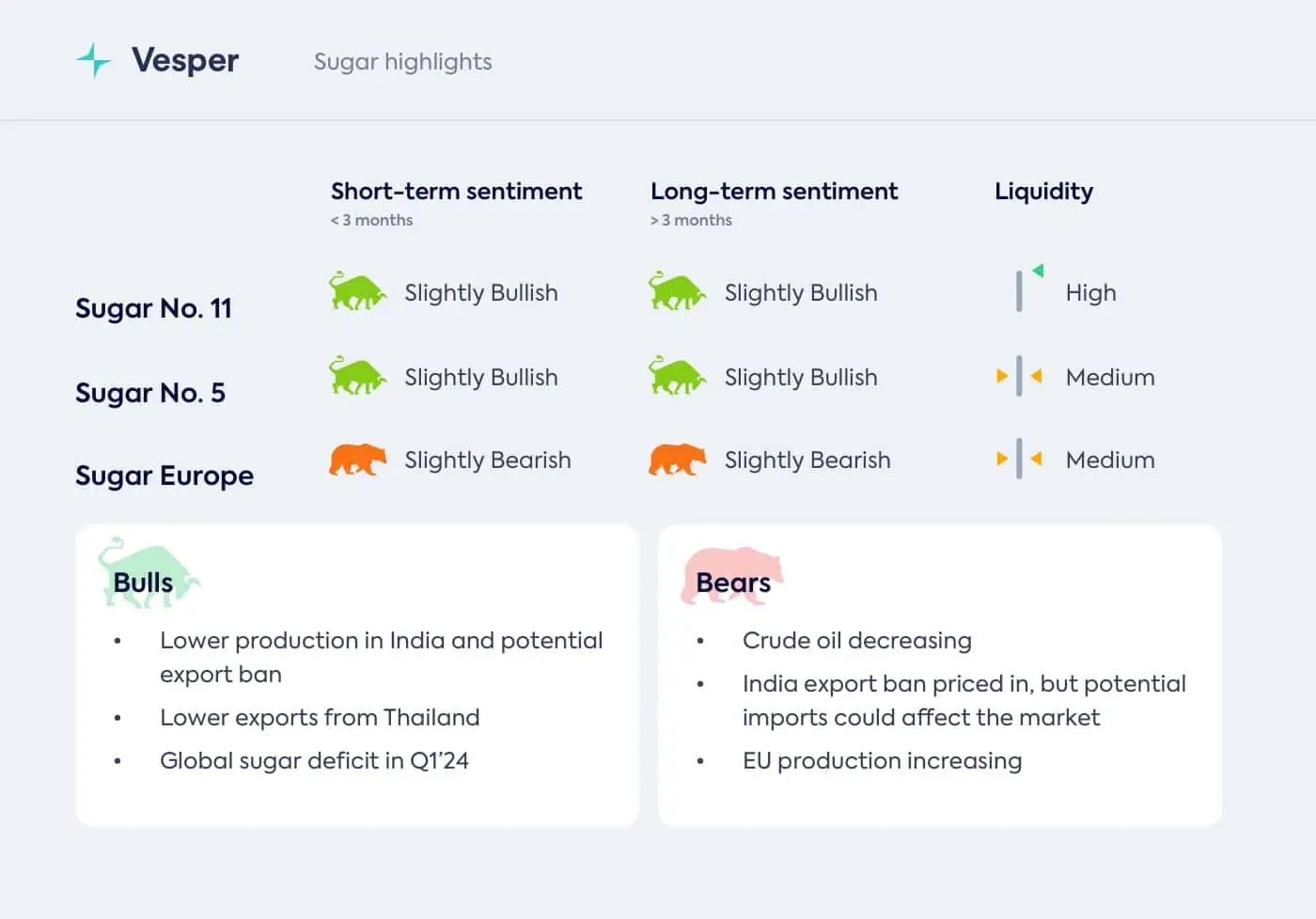 For a more in-depth analysis of the global sugar market, download our latest highlights for free.