From June 16 '23 onwards, prices for Sugar No.11 (raw) have been dropping due to the impressive production numbers and yields observed in Center-South Brazil.

During the first half of June, sugar production was 18.7% higher compared to the previous year, while yields in May were 26.2% above the previous year, as reported by CTC (Centro de Tecnologia Canavieira). These positive results can be attributed to favorable weather conditions during summer and the prioritization of crushing younger sugarcane.
The downward trend continued to prevail even more following the release of UNICA's latest production figures for Center-South Brazil this week — The production numbers recorded from April to the first half of June are significantly higher than those of the previous season:
Accumulated crush is 13,9% higher than last year at 166,3 million tonnes, with a total recoverable sugar (ATR) of 127,2 kg/ton (+2,15% YoY), and the sugar production mix of 47,27% (+5,66 points YoY);
The total sugar production is 32,13% above last year at 9,52 MMT, and ethanol production at 7,66 billion liters (+9,30%).
As a result of this announcement, the price of Sugar No.11 (raw) plummeted by more than 300 points to ¢22.70 per pound. As the market acknowledges the likelihood of a surplus, coupled with the approaching July expiration, futures for October/23, March/24, and May/24, have also dropped significantly since last week. The spreads between spot prices and futures prices have also decreased, providing further backing to the belief that a global product shortage is less likely to happen.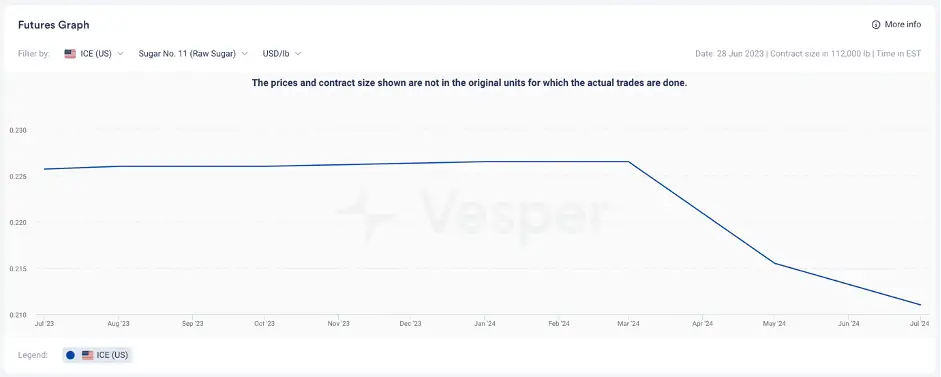 The positive trend of production numbers in Center-South Brazil is predicted to persist, potentially leading to additional price reductions. However, it's crucial to note that dry weather is necessary to meet the target of crushing 600 million metric tons of sugarcane. Otherwise, we can see cane rolling to the next campaign.

Craving for more Sugar insights? Access the latest commodity prices, market trends and AI-powered forecasts on Vesper. Book a demo or start your free trial today.