The world of dairy has been anything but still, especially in New Zealand. With the ramp-up of their milk production season and the need to redefine the age-old product mix to remain profitable, it's essential to understand the nuances and the broader impacts. For this, we sat down with Alexandria Winning-Browne, Dairy Analyst at NZX, to dive deep into New Zealand milk season.

The latest GDT event showed a 2.7% price increase. Do you anticipate this trend continuing in the upcoming weeks or months?
I want to be optimistic; however, when examining the fluctuations in all commodities listed on the GDT over the past six months, there's a clear pattern of inconsistency. So, while a 5.3% price increase on whole milk powder is quite notable, it's hard to see that continuing after such a significant drop in August. This unpredictability goes for all commodities; it's too early to confirm it's a trend just yet. Demand is there, it's just a question of what price people are willing to pay.

As for the reasons behind the price surge, it's a classic case of the "chicken or the egg" dilemma: Does an increase in demand drive up the prices, or is it a decrease in production that triggers the price increase? We've already seen two months of negative production this winter. So, is this reduced output influencing the recent GDT increase, or is it genuinely about increased demand? I think it's a little bit too early to say whether demand is fully back to where it was, or whether there are just a few of buyers in need of the product.

Can you provide insights into the present New Zealand milk production and its potential future trajectory?
New Zealand's milk production has been heavily influenced by weather patterns, as depicted in Figure 1. Despite challenges, the 20, 22, 23 season turned out to be really successful. The 2022/23 season bounced back from an earlier shortfall of 2.2%, and finished with an unexpected 0.2% increase in milk production compared to the previous year, breaking the decreasing trend that continued until December.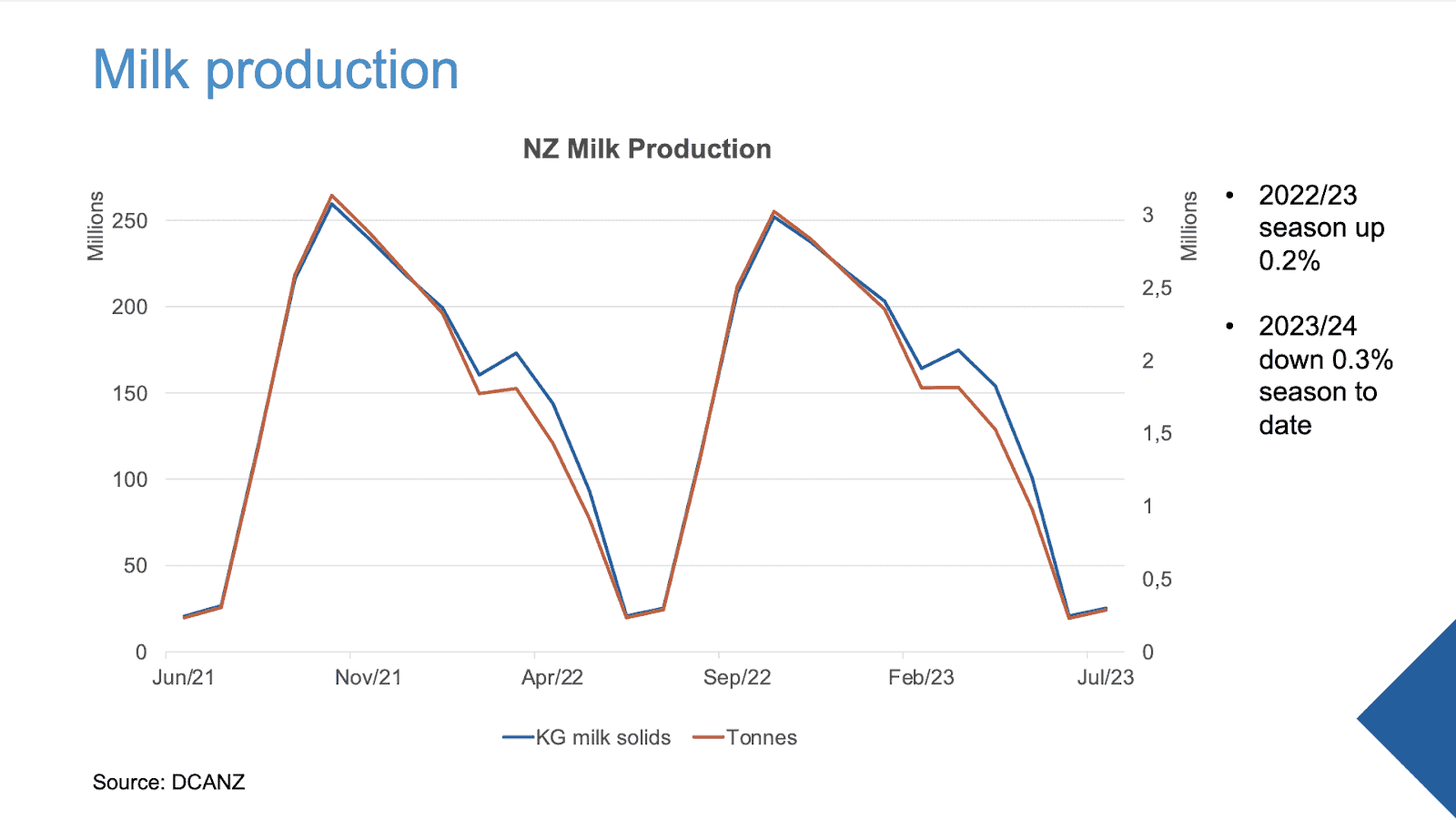 Fig. 1: New Zealand Milk Production

Transitioning into the 2023/24 season, which started in June, we are experiencing persistent rainfall that caused a boost in milk production at the beginning of 2023.
However, many farmers throughout the country have stated that they experienced their entire annual rainfall by the start of June. Exercise rainfall became a problem when, as temperatures dropped in June, a full water table saw grass conditions muddy, hindering the farmer's access to the pastures, as ground conditions are too soft. We are hoping that La Niña comes in and dries everything out.
Figure 2 shows you that jump in grass growth, with increased moisture levels leading up to April. Consequently, we anticipate a lower milk production from August due to excess moisture on the ground. Farmers have been stating that decreasing milking frequency is helping ground conditions improve.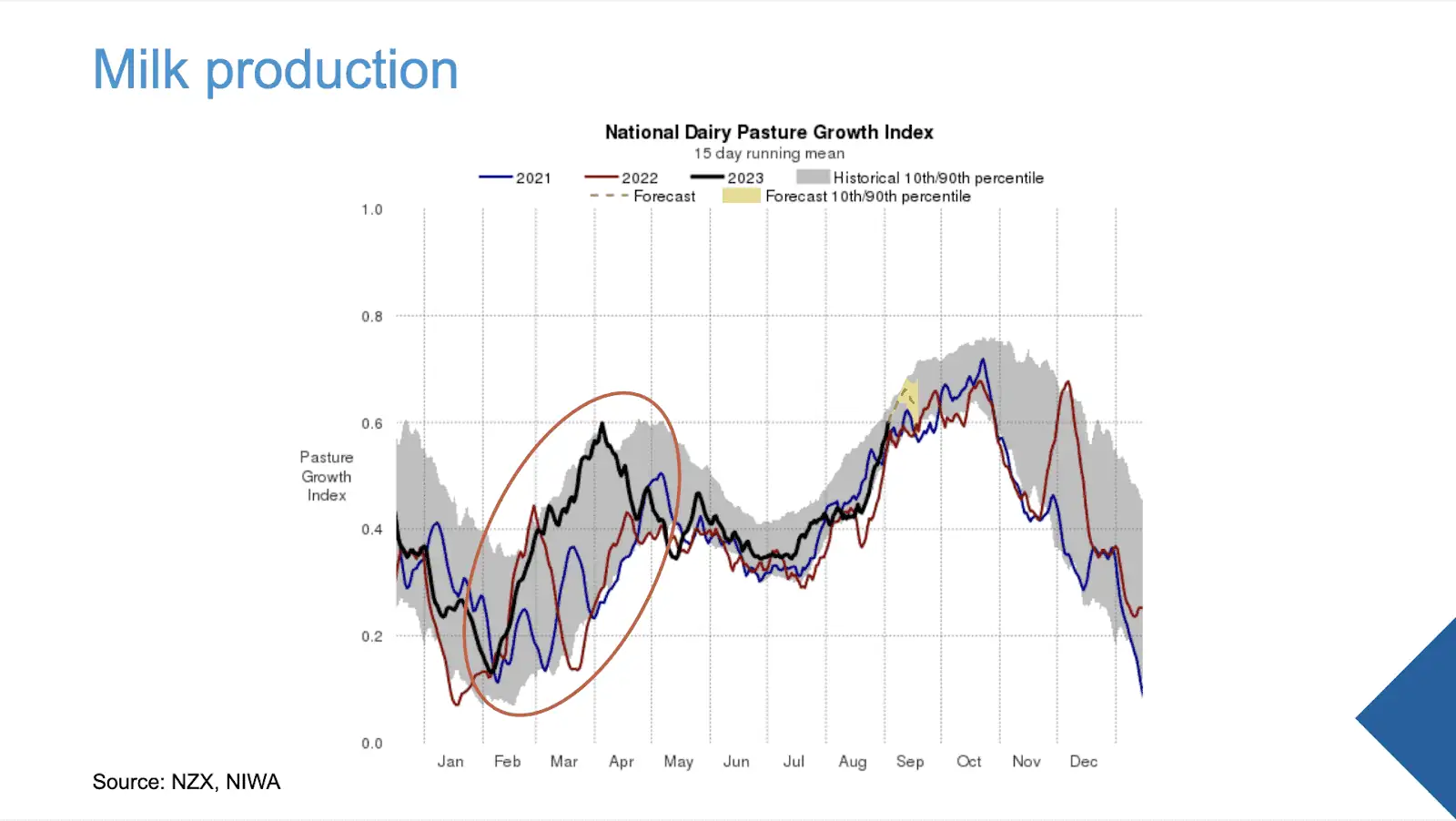 Fig. 2: National Dairy Pasture Growth Index

Looking forward, though, the issue for New Zealand is less so the weather and more so the impact of increased costs. Fig. 3 presents the Farm Expense Index, marking a 23% increase since mid-2021. This increase comprises a 74% hike in interest rates, a 27% rise in feed costs, 32% in diesel, 21% for premium fuel, and an 11% increase in urea fertiliser prices. This season may witness some farmers facing bankruptcy, with several resorting to second jobs despite already working 14-16 hours a day, impacting their wallet and mental health.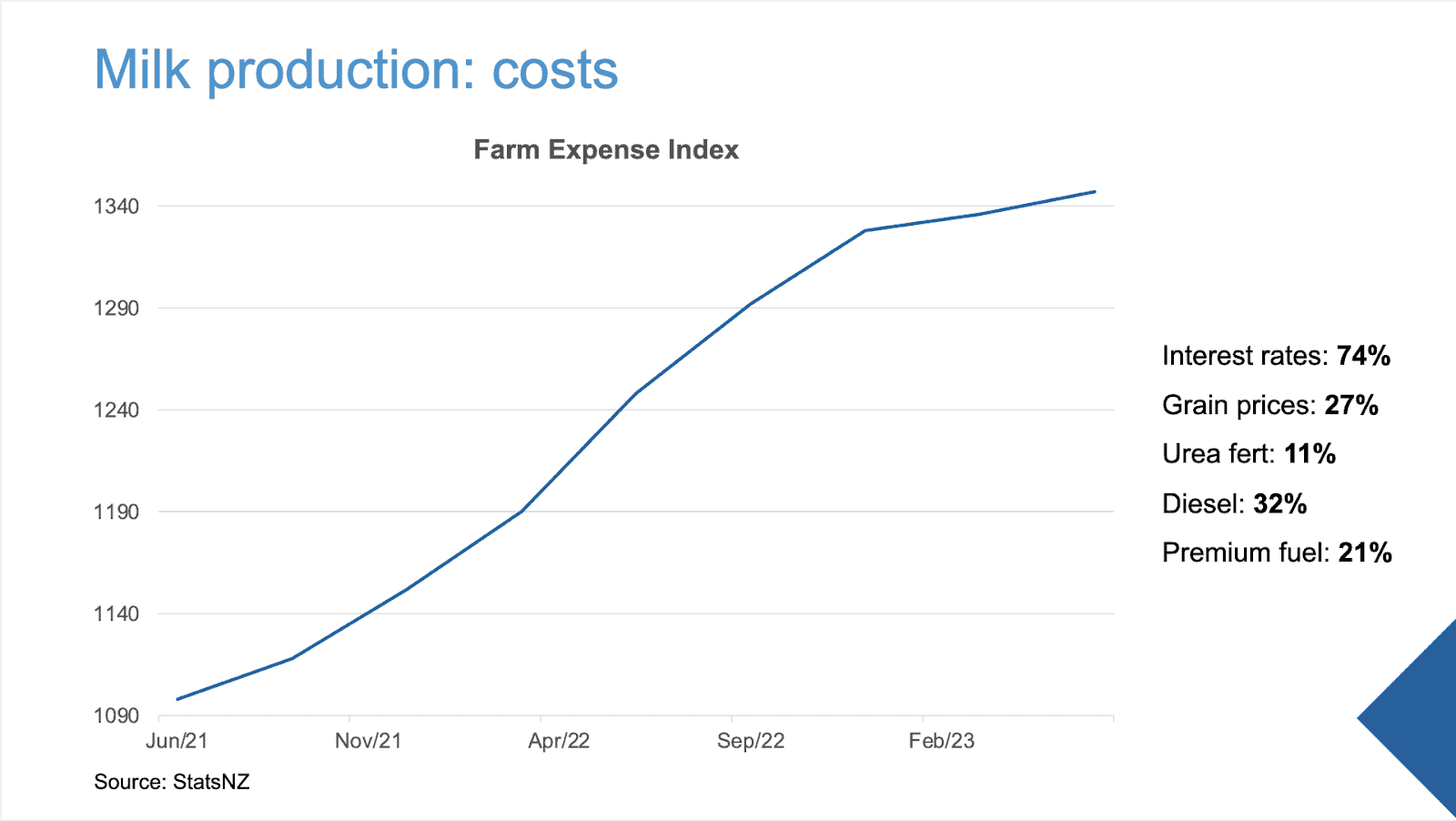 Fig. 3: Farm Expense Index

Alongside increased costs, lower global demand has had a significant impact on the milk price forecast, which is currently at $6.75/kgMS, as shown in Fig. 4. With rising costs and a bleak milk price forecast, farmers are cutting expenses, primarily by reducing spending on supplementary feed and fertiliser. As we head into spring, this is likely to have a significant impact on milk production.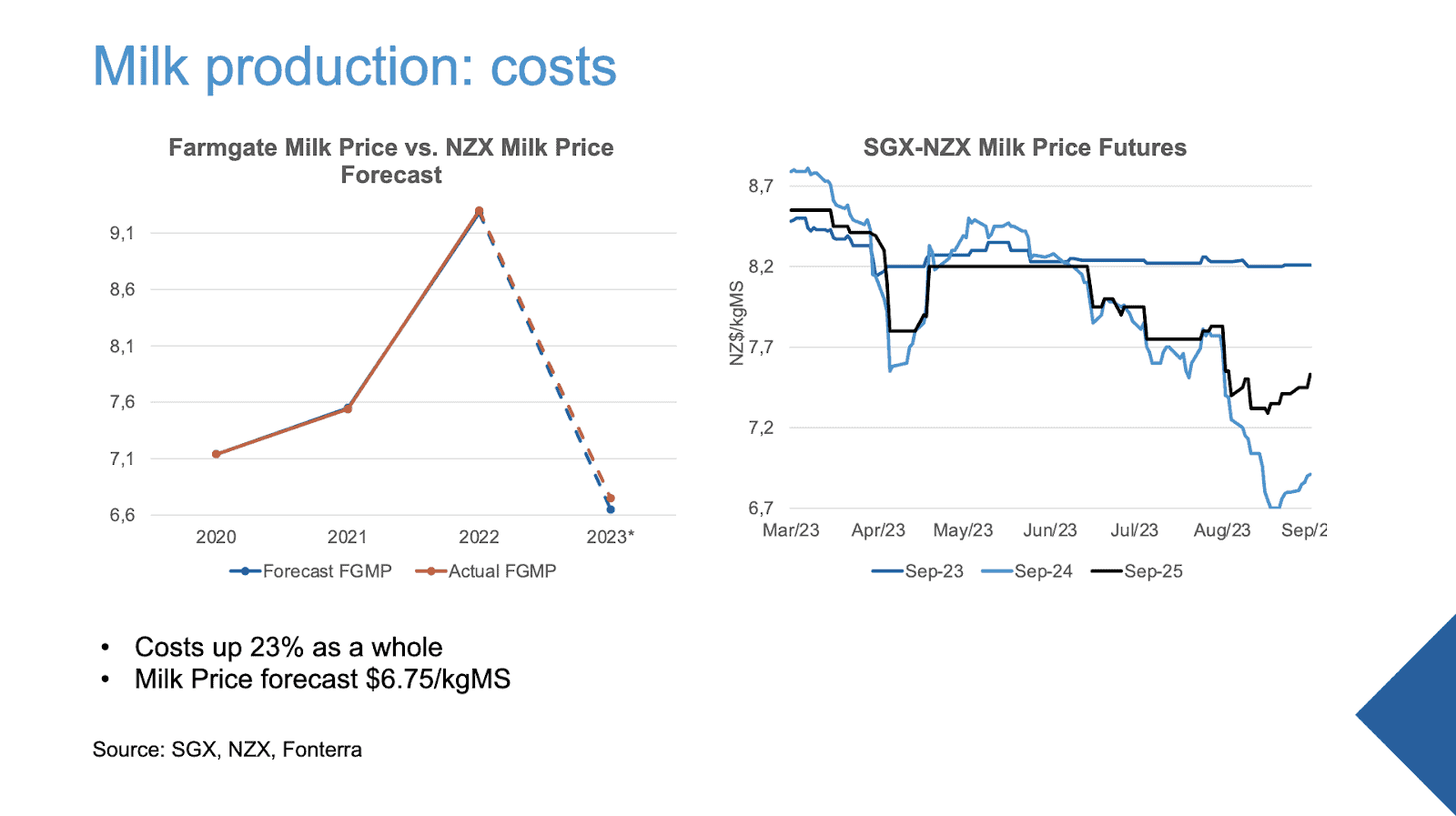 Fig. 4: Farmgate Milk Price and SGX-NZX Milk Price Futures

How do you think the milk production volumes will affect the different product groups? For instance, an increase in the production of specialised ingredients, given their added value in pricing?
I believe our dairy companies are pretty good at evaluating product value and adapting our production lines accordingly to produce more high-value products. Last year, for instance, we increased our Casein production significantly in response to the Casein prices of around 22,000 US dollars per ton.

However, the high increase in Casein production from New Zealand led again to a substantial price decrease, bringing Casein down to around $6,000 a ton, showing that It's truly about finding a balance between production volume and price point. The same goes for our raw milk production; last year's increased production resulted in a significant price drop this year. So, the challenge is to find that perfect balance.

Given the tighter environmental regulations, our processes are now leaning more towards prioritising value over sheer volume. I foresee this trend will lead to the production of more nutritional powders and refined infant formulas. Looking ahead, I don't foresee us maintaining production of the major commodities we're known for; instead, I anticipate a shift to more specialised products.

Can you provide an update on the status of New Zealand's dairy exports, particularly in light of China's increasing milk production for six years in a row?
Similar to our milk production output, we've seen a bit of volatility in our dairy exports. On a rolling 12-month period ending July this year, our total dairy exports have increased by 5%, see Fig. 5. Some exports have decreased, for instance, our exports in whole milk powder, due to lower global demand. However, in line with our increased milk production, there has been a shift towards producing more Skimmed Milk Powder over the past years, resulting in a significant increase in SMP exports of 29%. Our export numbers remain stable even with China's subdued demand. The supply has mainly been redirected to the Middle East, Australia and Southeast Asia.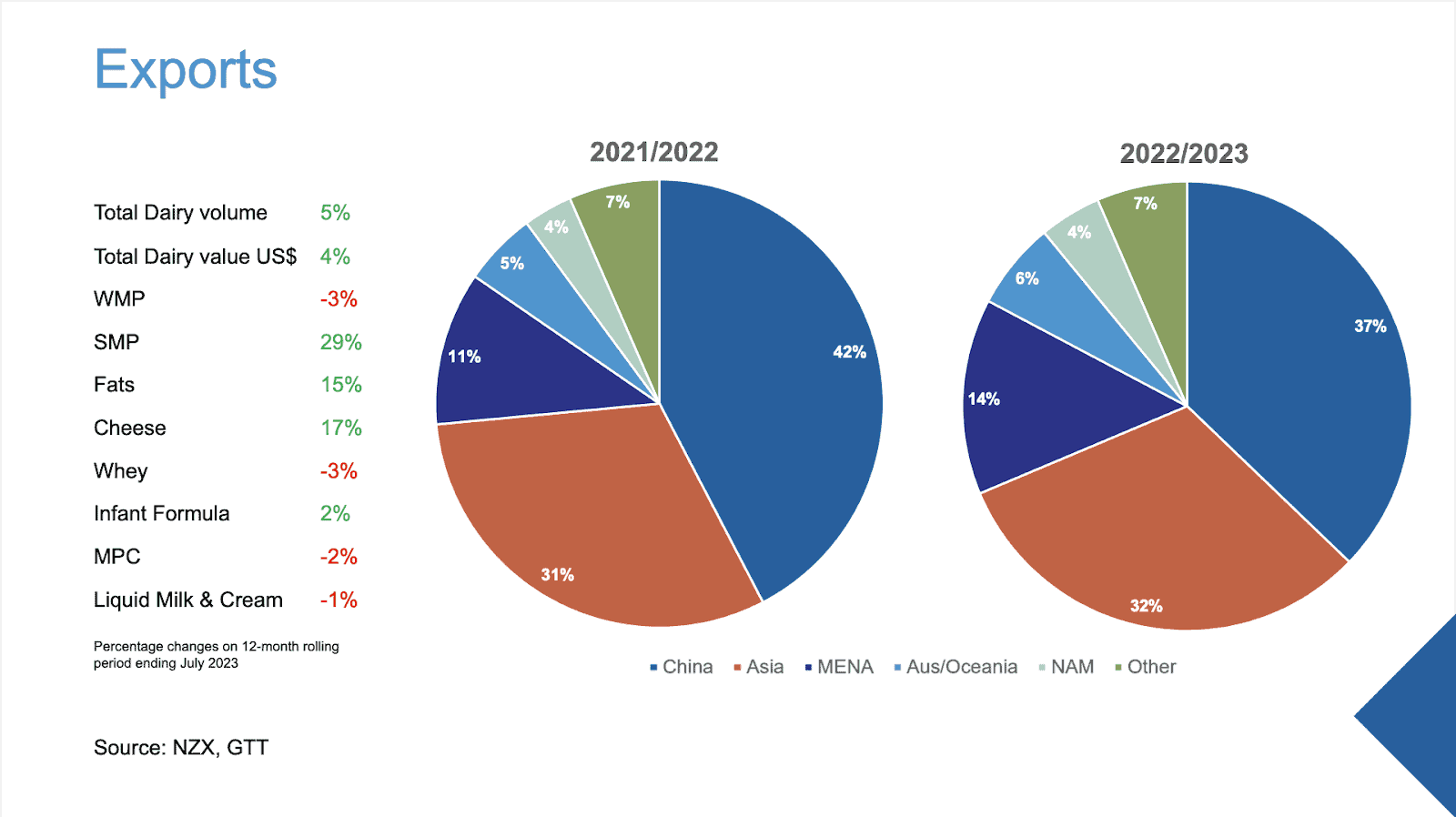 Fig. 5: New Zealand exports

As illustrated in Fig 6, China's production of dairy products in the last couple of months has declined due to a decrease in dairy products. At the same time, China has been pumping out milk for the previous five months of the year. As a result, China has shifted its raw milk into producing more domestic whole milk powder due to its long shelf-life.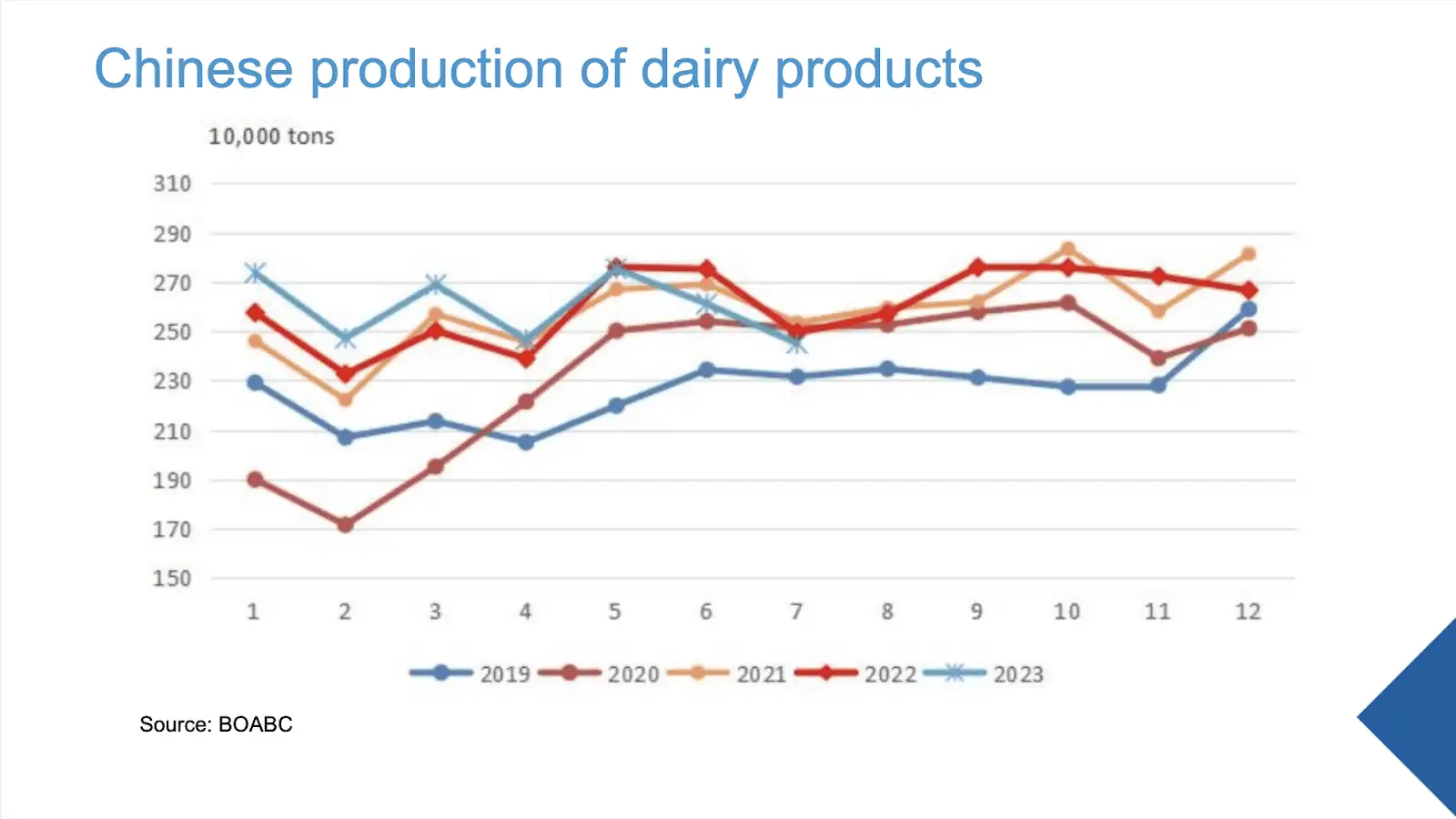 Fig. 6: Chinese production of dairy products

The increase in China's whole milk powder supply has significantly influenced our WMP exports. Yet, parallel to this, there's been a significant rise in China's imports of New Zealand's skimmed milk powder. Fig. 7 visually represents the trends of New Zealand's exports of whole milk powder versus skimmed milk powder.

Fig. 7: Exports trends of NZ Whole Milk Powder vs NZ Skimmed Milk Powder

We've been hearing that demand in stores is making a comeback, supported by the recent government stimulus program for domestic household consumption. Dairy processors out of China are reiterating that as well as continued purchases on the global dairy trade auction.

There is a longer-term Chinese demand story at play. Recent reports indicate that the future of New Zealand exports to China looks a bit more optimistic. Additionally, there are also a few positive trends occurring beyond the Chinese market. As depicted in Fig. 8, our fastest-growing markets are Algeria, Malaysia, and Sri Lanka. Given the increased purchases from Southeast Asia and the Middle East on the GDT, this doesn't surprise me.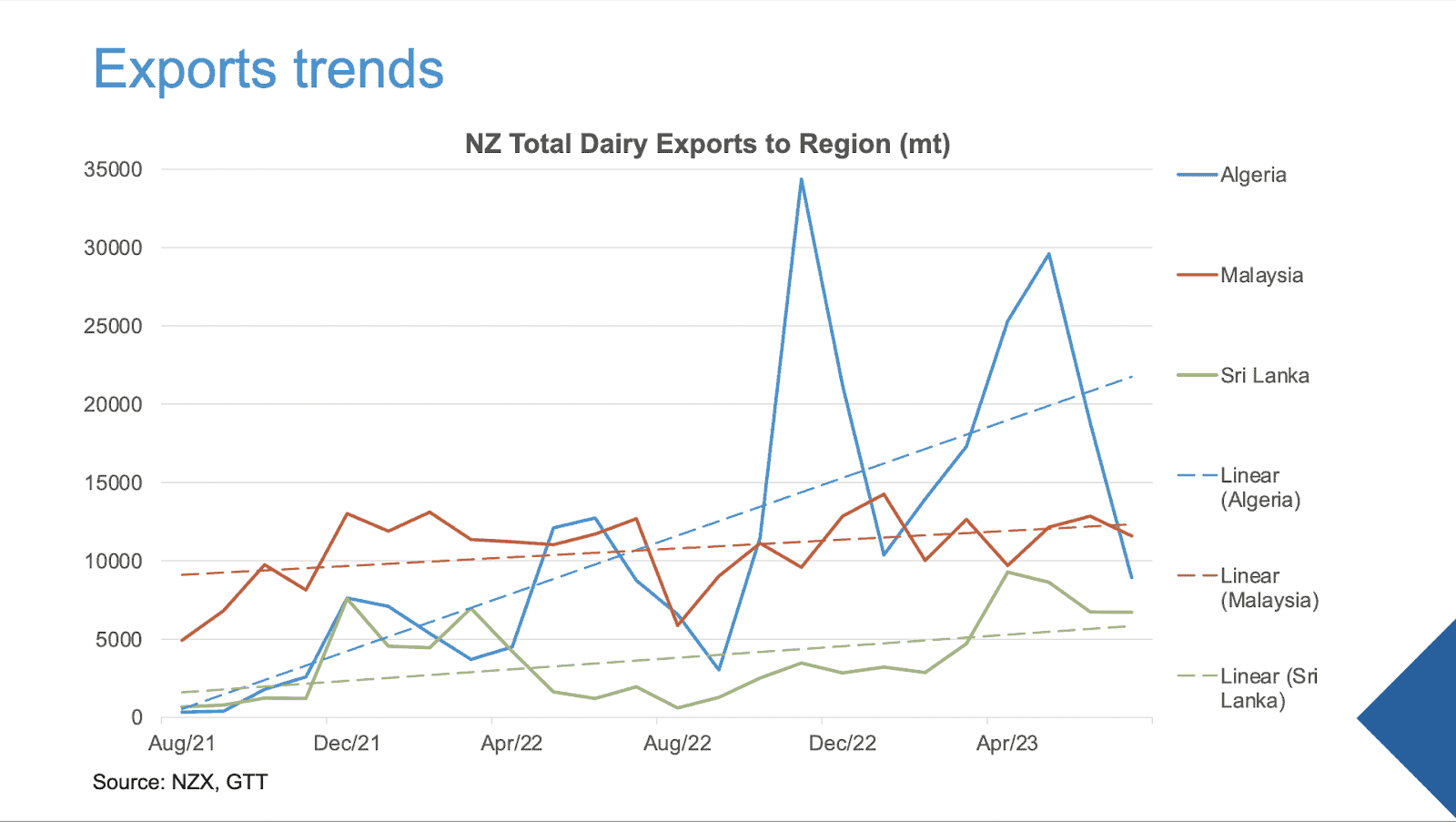 Fig. 8: NZ total dairy export trends to Algeria, Malaysia, and Sri Lanka
In addition, Fig. 9 illustrates the increase of European purchases on the GDT, meaning New Zealand has a consistent upward trend of exports to Europe, with a 6% increase in July compared to the year before. This while the FTA with the EU went into force at the beginning of July. I'm interested to see whether this upward trend will continue.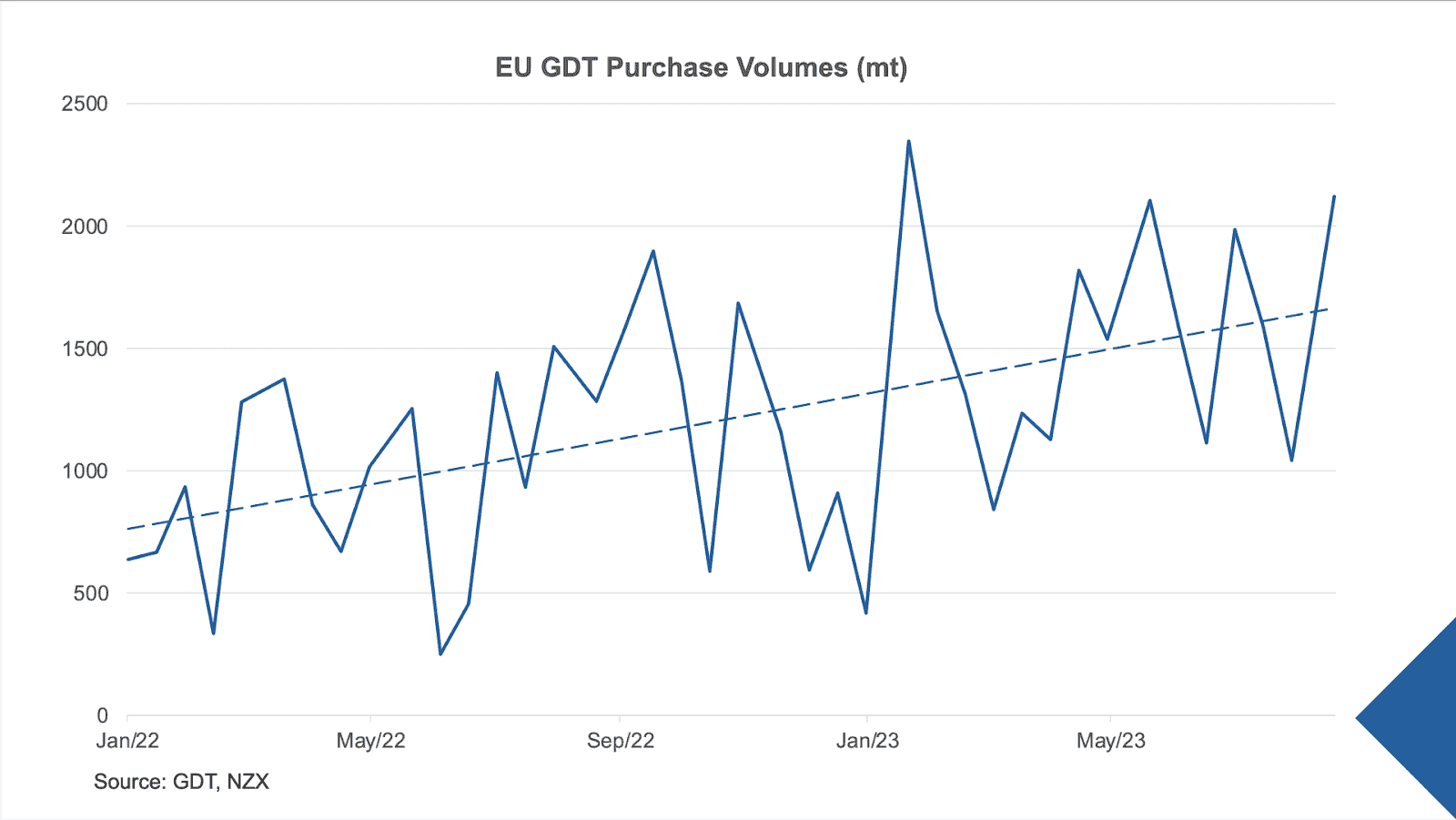 Fig. 9: EU GDT Purchase Volumes (mt)

Do you anticipate continued skim powder production growth in the upcoming milk season?
We are a small island, and we don't have excess production facilities, meaning that we have to do a lot of planning to process one product over the other. While there's currently some flexibility within milk fats, it's hard for me to envision a substantial increase in skimmed milk or even cheddar and nutritional powder production. We are pretty limited on how much we can move the product lines around. That said, we are witnessing some large investments from international companies like Mengniu, Yili, and Olam, who just introduced a plant here. However, most of these facilities focus on milk powder. Thus, seeing a substantial rise in Skimmed Milk Powder production without further infrastructural investments seems unlikely.
How do you feel China's increase in milk production will impact New Zealand's milk production over the coming years?
I think that's why New Zealand is such an interesting market to look at, as we don't produce our milk for domestic supply only – We produce based on our capabilities, and the output is way larger than our local consumption. I am a bit weary of Chinese milk production in terms of their self-sufficiency. Not that I don't think they have the capability to do so. However, it's been a very telling 12 months in terms of meeting demand on the shelf.
We've witnessed a real push in milk production in China, leading to a shift in soy usage primarily for feed rather than food. Twelve months later, we saw another shift as soybean availability for products like tofu dwindled. The situation seems to be flipped again, leading to reduced feed availability. It's a balancing act that they are struggling with.

Additionally, the constrained export capacity of Ukraine due to its conflict with Russia has had a massive impact on Chinese feed prices. Given the current volatile state of the market, it's not a good time to assess China's true potential. However, I'm reluctant to say their growth is sustainable, mainly because we've seen three months of negative production figures.

Stay up-to-date on the latest global dairy trends, and join us for the next session of The Dairy Cafe — a bi-weekly online event featuring inspirational guest speakers like Alexandria Winning-Browne.