The European Union (EU) is focusing on Africa for sustainable aviation fuel (SAF) projects through its Global Gateway infrastructure fund, according to a recently released Reuters report. With a projected surge in demand for eco-friendly aviation solutions, the EU plans to allocate €150 billion ($161.95 billion) from its fund for African projects, including SAF initiatives. The fund has previously supported renewable energy and green hydrogen projects, as well as education and healthcare initiatives on the continent. The EU aims to explore co-financing mechanisms and guarantees to facilitate SAF production in Africa, which is deemed to have significant potential. A €4 million capacity-building project is set to begin, supporting SAF feasibility studies and certification in 11 African nations and India.
Poland has appealed to the European Court of Justice to overturn four key EU climate policies introduced earlier this year. The country argues that these decisions would negatively impact energy security, social equity, and economic growth. One appeal challenges the planned phase-out of internal combustion engine (ICE) cars by 2035, claiming it will harm the automotive sector and society. Poland also contests the EU's emissions reduction targets and greenhouse gas removal goals, asserting threats to energy security. Additionally, Poland seeks to cancel the EU's increase in allowances under the ETS trading scheme, arguing it endangers energy security. The EU Commission maintains the policies' compliance with treaties and laws.
Argentina's biodiesel production and exports are projected to reach their lowest levels in 15 years due to weak domestic diesel demand and unfavorable arbitrage economics into Europe. Biodiesel production is expected to drop by 54% from the previous year to 1 billion liters, while exports are estimated to decrease by 80% to 280 million liters. This decline is attributed to reduced diesel usage, economic contraction, and agricultural production challenges. On the other hand, Argentina's ethanol industry is predicted to experience record demand, reaching 1.17 billion liters, boosted by increased gasoline sales and higher ethanol blend rates.
Malaysia aims to achieve a 30% biodiesel blending (B30) target for heavy land vehicles by 2030, contingent on economically viable palm oil-gasoil spreads. The country's energy transition roadmap also focuses on expanding biorefinery capacity to 3.5 billion liters and biomass power generation to 1.4 GW by 2050. The roadmap emphasizes agriculture-based and waste-based bioenergy, including exploring bamboo as a feedstock. Malaysia intends to increase the acceptance of palm derivatives, with a combined bioenergy potential of 2,850 MW from palm oil-related residue. Additionally, Malaysia will gradually implement sustainable aviation fuel (SAF) blending mandates, with ambitions to reach 47% by 2050, using various technologies.
Hurricane Idalia struck Florida on Wednesday as a powerful Category 3 storm, causing widespread devastation with ripped roofs, flooded streets, and uprooted trees. The storm then moved into Georgia and South Carolina, flooding roadways and prompting evacuations. Despite minimal casualties in Florida, Idalia left a trail of destruction, affecting coastal areas and causing power outages. The storm's impact extended into Georgia and the Carolinas, leading to flooding and damage. Authorities worked to assess and address the aftermath, with President Biden offering support to affected states.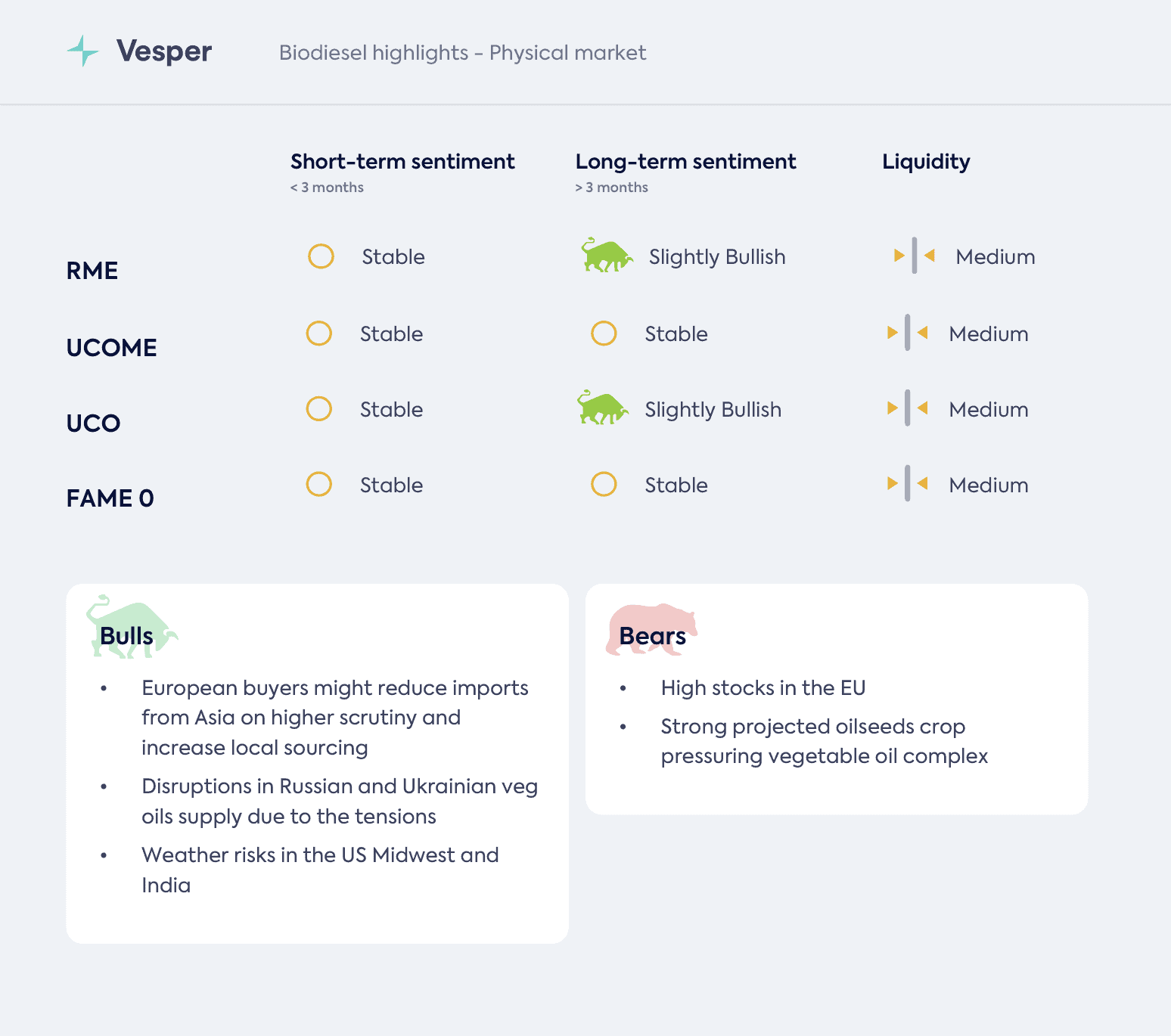 Want to unlock the full biodiesel highlights? Start your free trial here.