A year of La Niña is not unheard of. Three consecutive years, however, is a rarity.

Characterised by a large-scale cooling of the sea surface temperature in the equatorial Pacific, the climatic phenomenon of La Niña is set to continue for the third year running, according to the World Meteorological Organisation. This "triple-dip" pattern has happened only three times since 1950, with the last cycle occurring more than 20 years ago (1998-2001).

The impact of La Niña on agriculture is significant, especially as its effects vary across the globe. Whilst wetter conditions mainly occur in Southeast Asia, South America is, conversely, subject to drought. Palm and soybean, primarily produced in those regions, respectively, are largely affected—for better or worse.
Different outcomes for soybean and palm in 2022
Whilst this La Niña pattern started in 2020, the impact on production was primarily noticeable in 2022 as soybean and palm production oversaw a sharp decline compared to the previous years. Although La Niña played a role, the reasons behind those decreases differed depending on the crop and could not only correlate with the climatic conditions.

Argentina and Brazil, by far the two biggest soybean-growing countries in South America, experienced a drier and warmer climate in 2021 and 2022. Some large growing regions saw only 25% of the average rainfall between June and August 2022, resulting in an 18% lower soybean production in 2022 compared to 2021 (see map and graph below).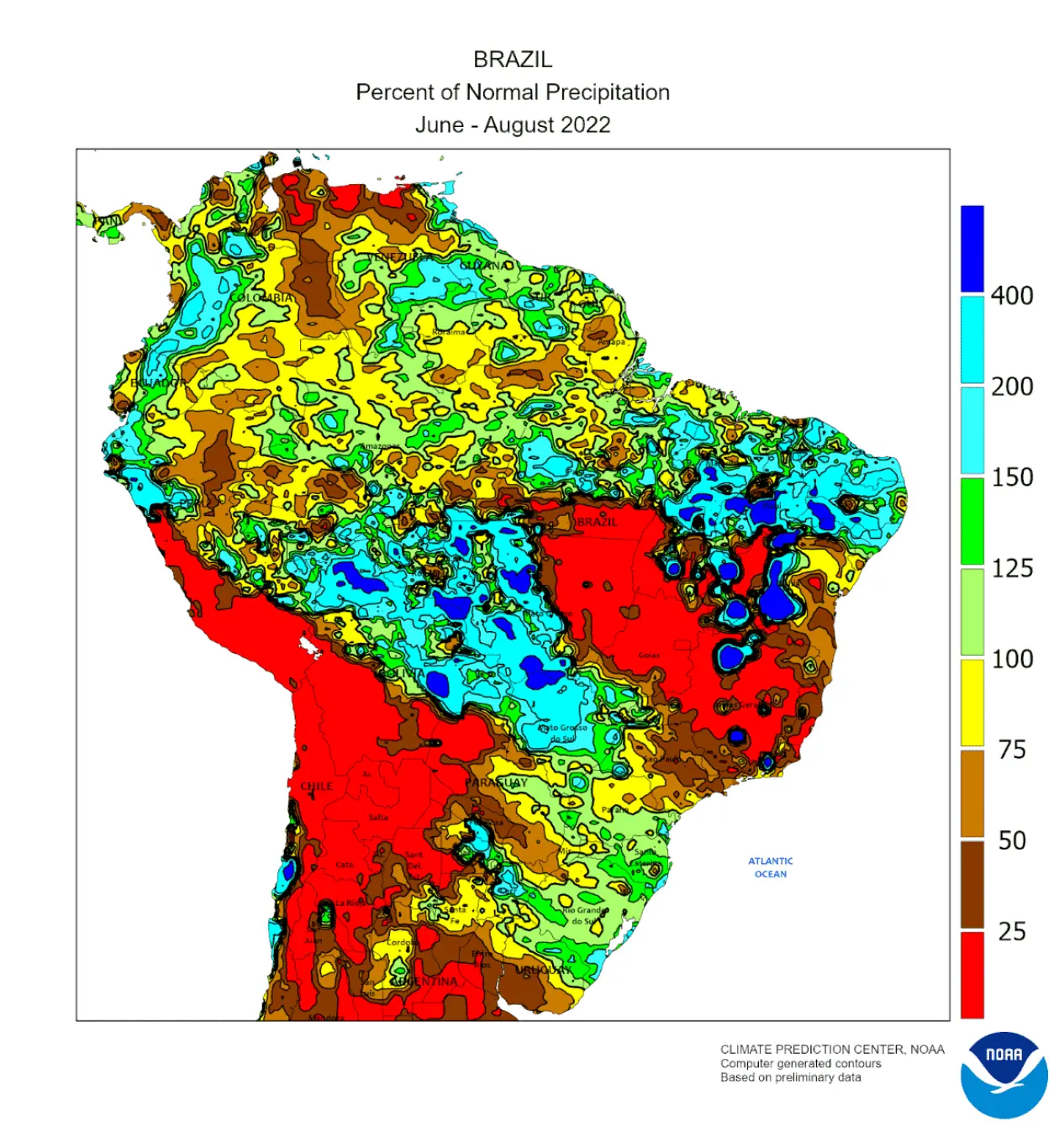 Source: National Oceanic and Atmospheric Administration (NOAA)


Conversely, large parts of Malaysia and Indonesia saw between 125 to 400% of the average rainfall during June and August this year (see map below), boosting palm production in both countries. Whilst the wetter conditions in Southeast Asia should have resulted in a more significant production; the effects were only visible in Indonesia. There was an increase in Indonesian production volumes reported in 2021 and early 2022 by 2% versus 2020. In contrast, Malaysian production numbers appeared to have decreased from pre-coronavirus days and the resulting labour shortage issues, which affected Malaysian palm production facilities (see graph below).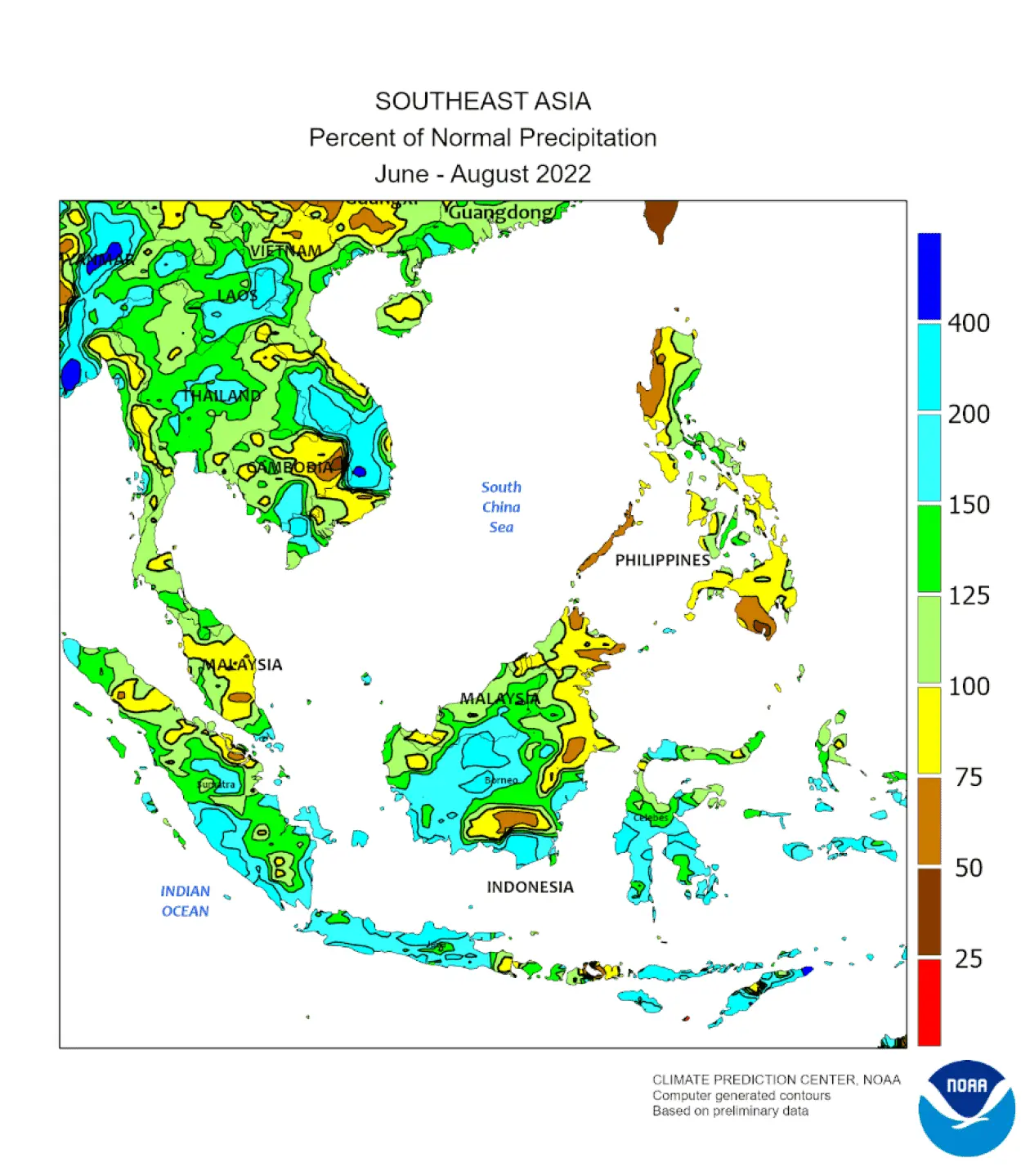 Source: National Oceanic and Atmospheric Administration (NOAA)

As the first half of 2022 was marked by a global food shortage following the war in Ukraine, palm and soybean represented an alternative to the sunflower stocks withheld by Russia. Although the worldwide food crisis is currently not as critical as it previously was, another year of poor yields could cause significant disturbance to a market walking a tightrope.
A return to normal conditions in 2023?
The IRI ENSO Forecast, the reference in the meteorology field, predicts that La Niña will remain until December this year with a probability from 60% to 90% before slowly turning to neutral conditions in January 2023 (see graph below).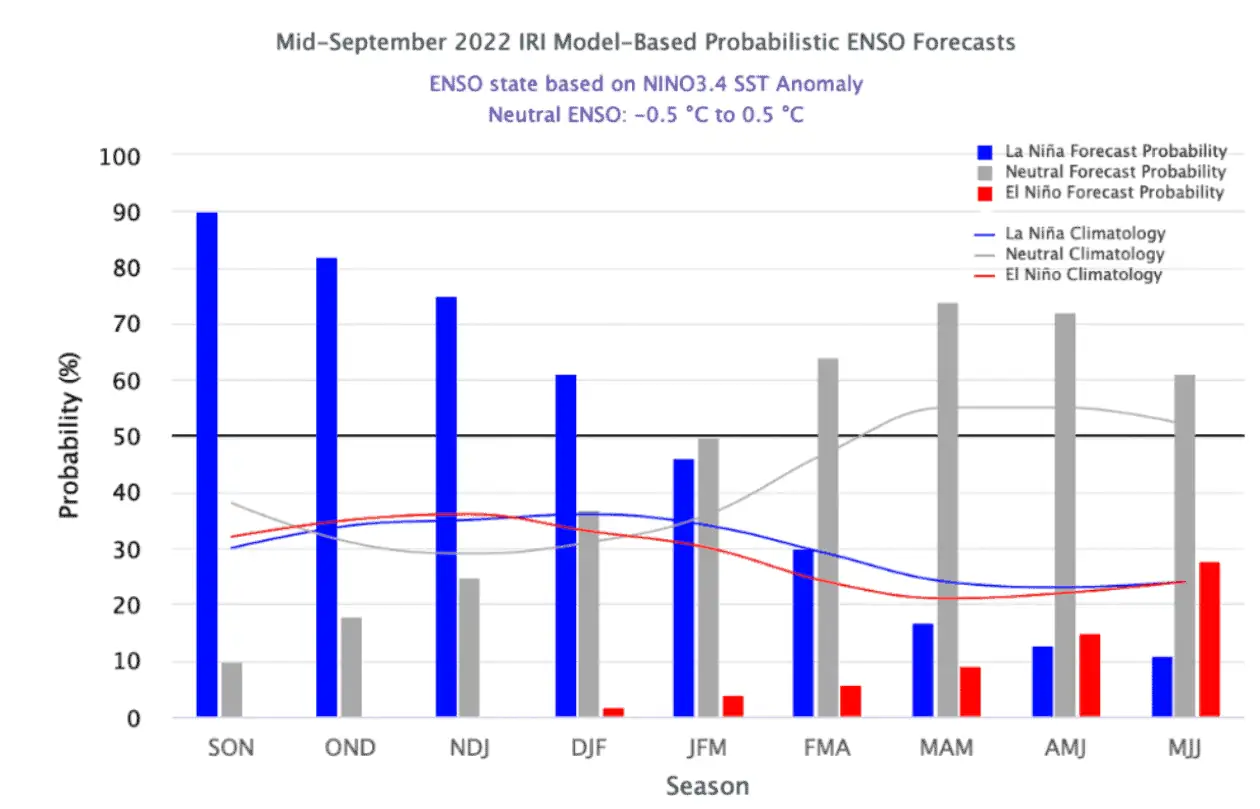 Source: International Research Institute for Climate and Society

A mild La Niña, however, can already be perceived in Brazil as an increase in precipitations was observed in the soybean-planted areas in September, resulting in excellent soil moisturisation that, in combination with an increase in planted area, is predicted to drive next season's soybean production up by 20% year-on-year.

Albeit to a lesser extent, a similar trend should be observed for Malaysian palm production in 2022. Vesper AI-driven forecasts anticipate that a 5% production growth YoY will be driven primarily by workers' slow return, not by the above-average rainfall in the region (see graph below).

Soybean and palm production for 2023 looks bright despite the continuation of La Niña. Nevertheless, the vegetable oil market appears to walk on a thin line in a global economy stalling due to war and inflation. The production levels can shake depending on how the situation unfolds. Therefore, it will remain crucial for vegetable oil players to stay wary of future market developments and closely follow the next price and production movements.

Our latest Oils & Fats articles
Ukraine sunflower oil tanks hit by drones as conflict intensifies
Andalusia's olive oil production drops by 49% due to extreme droughts